Meet Juan. He lives in Communist Cuba. He is married to Ada. They have a little girl who is the sunshine of their lives. Cuba is not an easy place to call home. It is hot, humid, poor, and Communist. Those who think all political and social systems are of equal value have not visited Cuba. It is 80 miles from the USA, but a million miles from freedom. There are no free elections. There is no free press. There are no supermarkets with shelves groaning with goodies.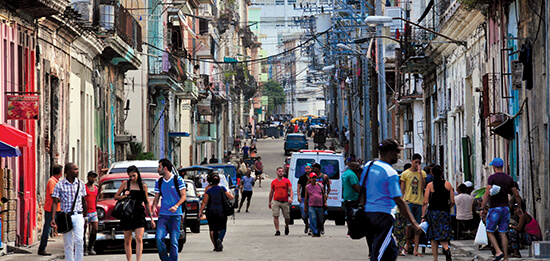 JUAN GOES

100

MILES A WEEK ON A BICYCLE
Juan is our man in Havana. He sang for our meetings when we ran our campaign there. He came with us to Russia recently. His strong voice as he sang with passion thrilled the Russians. He, on his part, was thrilled to eat more than rice and black beans, his daily fare back home in Castro country. He wants to be a minister of the Gospel. We are now sponsoring him at the Cuban Adventist Seminary. He is also pastoring a church. He rides a bicycle to his church five times a week. His little home is 10 miles from his church. Bus fares are cheap in Cuba, but too expensive for our Juan.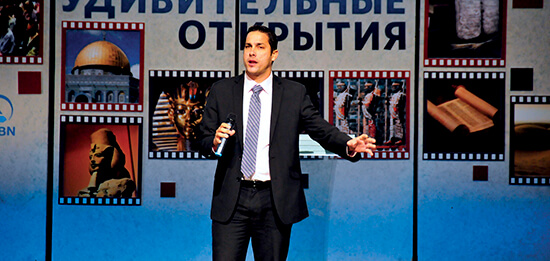 He is building a new church. He is doing this because the calling of God is heavy upon him. He doesn't get paid more because he works more. He does it because of the love of God.
MANY JUANS
There are many Juans we have met in Cuba and elsewhere. There is our man in Guantanamo Bay, Pastor Navarro. Like our Juan he works with a tireless passion. He rides a bike when it works, but sometimes rides the antique bus that looks, as my old Aussie mum would say, "sorry for wear."
We first met him when he travelled from Guantanamo Bay to Havana. This trip took 12 hours and it was done in the midst of a raging hurricane. He came to attend a special School of Evangelism that we conducted for all the Cuban pastors from right across the country. He had just completed his own series of evangelistic meetings and baptized 80 new souls. It was the privilege and honor of The Carter Report to pay for these meetings. This is why we exist and we are proud to help this fine Cuban pastor.
CONCRETE BLOCKS AND SOULS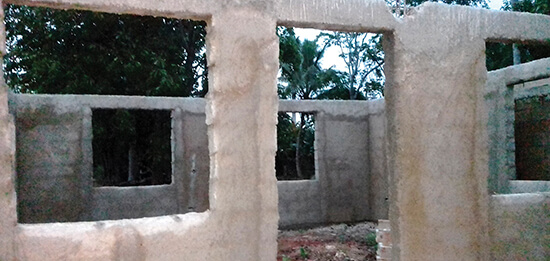 We are helping our Juan with the construction of his church building. Really I should say, God's Church building. It is being constructed of concrete blocks that hopefully will be resistant to hurricanes.
Our Juan, our sweet singer, is also our Juan the evangelist. He is preaching his heart out to his little congregation that is growing under his leadership. I am moved when I see that most of the people crowded inside the spartan building are young people.
WORTHY
These are people who are worthy of our support. They are a sample of a great number we have met in near and far-flung places. They give us hope to carry on. When you send your gift of love to The Carter Report this month, you are supporting our Juan, his little family, and so many more. You are lighting candles in dark places, you are fanning flames where the social and political atmosphere is frigid. You are helping to save souls for eternity.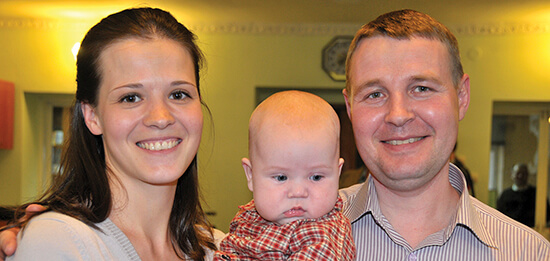 You are doing what Jesus would do. "Inasmuch." Please write soon. Please remember our Juan, and all the others. The Carter Report team sends you much love, many blessings, and abundant thanks.
"Then the King will say to those on His right hand,
'Come, you blessed of My Father, inherit the kingdom
prepared for you from the foundation of the world:
for I was hungry and you gave Me food;
I was thirsty and you gave Me drink;
I was a stranger and you took Me in;
I was naked and you clothed Me;
I was sick and you visited Me;
I was in prison and you came to Me.'
"Then the righteous will answer Him, saying,
'Lord, when did we see You hungry and feed You,
or thirsty and give You drink?
When did we see You a stranger and take You in,
or naked and clothe You?
Or when did we see You sick,
or in prison, and come to You?'
And the King will answer and say to them,
'Assuredly, I say to you, inasmuch as you
did it to one of the least
of these My brethren, you did it to Me.'"
~ Matthew 25:34-40
________
Thank you for your commitment
to people like Juan, and the work of
proclaiming the saving Gospel of Christ.
Please send your best gift for the saving of souls to:
John Carter
PO Box 1900
Thousand Oaks, CA 91358 USA 
In Australia:
John Carter
PO Box 861
Terrigal, NSW 
When you send your gift, please request my DVD, "The Message."
When you request your FREE DVD, please quote this number: ALW1803-1804.*
* All gifts to this ministry are tax-deductible as defined by U.S. Treasury regulations. The fair market value of the DVD is $15.00 and all tax-deductible receipts will be in accordance with U.S. Treasury regulations. The DVD is a gift to you, but according to the tax-laws of the IRS is not tax-deductible. The market value is $15.00 and your receipt will reflect the tax requirements of the IRS.
You may give online at cartereport.org.
Thank you in Jesus' name. May God bless you abundantly.